Uploaded by Anonymous #CD8C
18000x12000 PNG

92.48 MB
This post is blocked by your current filter - click here to display it anyway
your current filter
This warning may be hiding NSFW (18+) content. Your jurisdiction/age may mean viewing this content is illegal.
You can click above to reveal the image just this once, or change/edit your filter to allow this tag at all times.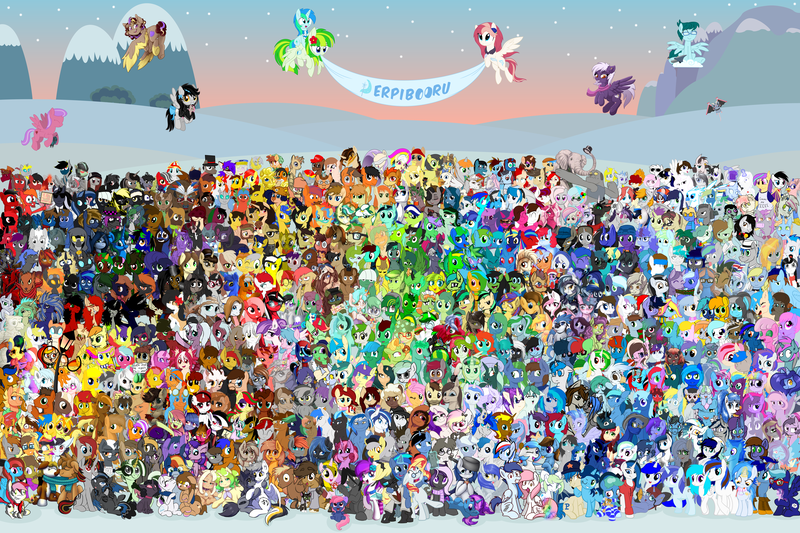 Description:
Last year, when I announced the first Derpibooru Community Collab, I honestly did not think there would even be a hundred submissions, and ended up proven wrong by a huge margin. This year, I was expecting there to be around 300 to 350 submissions, maybe 400 if we were lucky, and once again, I was proven wrong in the absolute best of ways. This year's Community Collaboration features an amazing 603 OCs drawn by 374 artists!
Seriously, from the bottom of my heart – thank you to all of you who helped make this image possible, and to all of you who help make Derpibooru the amazing community that it is today. It's been an awesome six years, and I can't wait to see what the future has in store!
I would love to thank all the artists and OC owners who participated in this collaboration. Especially the artists who took time out of their day to draw OCs for others who otherwise may not have been able to participate in this collaboration otherwise. There were over seventy artists kind enough to help draw OCs for others, and I cannot thank you enough.
Though several artists really went above and beyond, drawing at least five OCs for other people, so I would like to give shout-outs to Arifproject, Binkyt11, CyanLightning, Darkest-Lunar-Flower, Dragonpone, Feralroku, LightningBolt, Succubi Samus, Toyminator900, and Wcnimbus. I also would like to give a shout-out to TheAnonShy and CyanLightning for the beautiful banner featured in this collab. Thank you everyone!
Also, if you're crazy enough to want the full resolution of the collab, which weighs in at right about 95MBs for a 18000 × 12000 image, you can find it at https://derpicdn.net/collab18.png. I do not recommend clicking that link on a slow and/or metered internet collection, because that will kill your bandwidth.
Once again, thank you! And Happy Birthday, Derpibooru!
Hang on a sec...
Make sure you have read and understood our
tagging guidelines
before editing tags.