Uploaded by Anonymous #42B8
800x1896 PNG

498 kB
This post is blocked by your current filter - click here to display it anyway
your current filter
This warning may be hiding NSFW (18+) content. Your jurisdiction/age may mean viewing this content is illegal.
You can click above to reveal the image just this once, or change/edit your filter to allow this tag at all times.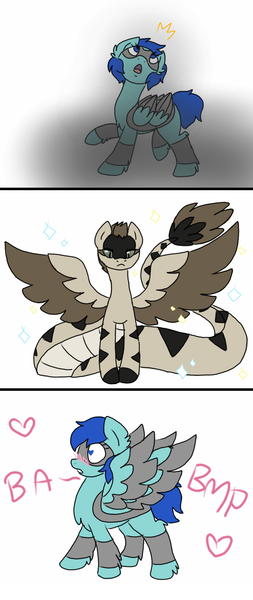 Description:
"My mountain pony, Tardis, meeting Bushmaster (my quetzal pony) for the first time. The colossal stallion likes his mares with big wings, and Tard has four of them along with an adventurous personality that only made him like her more. Tardis likes him at first for his beautiful coat pattern, but soon finds his aggressive, predatory nature to be just as attractive." -Artist's description
Hang on a sec...
Make sure you have read and understood our
tagging guidelines
before editing tags.