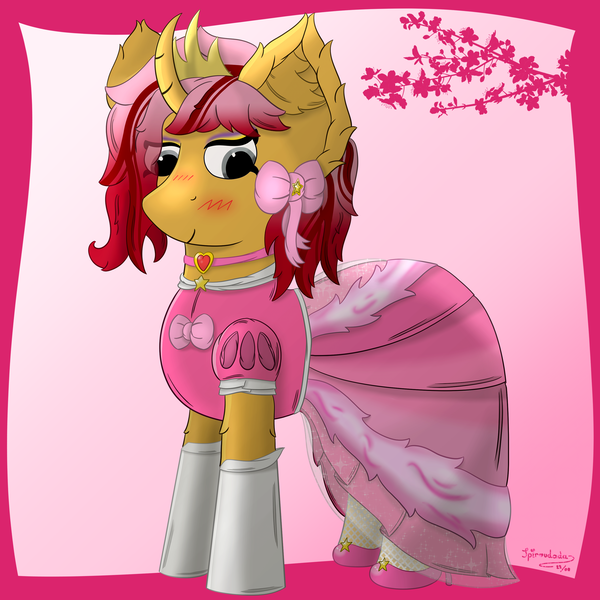 Description:
Join my discord : https://discord.gg/pUe9KUgsZD
Hello to all!
So, today the drawing I'm going to show you is one of the most beautiful ones. It is a drawing of Dolly wearing the dress that Volpoune made in her artrade where she represented me as a princess. Because as you could see, I am an unconditional adorer of the dresses of princess and that's why I have a lot of fun to make my ocs wear this kind of clothes.
Now that I'm in the middle of August, it's time for a little personal review since I'll be gone on vacation next Tuesday and I won't be back until early September. There might be one or two more designs on this page but not more...
At first, I would have liked to do more drawings than what I did this summer. But the more the years go by, the more I realize that I am not made to work in the heat, with a cocktail in hand. However, I don't consider my vacation to have been unproductive. I was able to see my friends, go out, discover new things, get out of my comfort zone, in short, a lot of things. And then, if I have to be totally honest, I would say that I'm still in a transition phase with my activities as an illustrator (and also as a streamer and video editor) which are just starting to take off and need some regularity.
In a second time, when I will resume my activities in September, you should not expect me to be super active. Indeed, I have to prepare an internship project and, since it has to be done by the end of September, it will be my first priority. However, I will continue to draw, especially "showcase" drawings for my new price list or twitch banner for example, so that I can get all the necessary assets for my different networks.
I know that very few people are interested enough in my private life to read this huge, but to all of you who read it, I thank you for coming here.
I hope you like it