Uploaded by Anonymous #E2C4
2048x4096 JPEG

2.91 MB
This post is blocked by your current filter - click here to display it anyway
your current filter
This warning may be hiding NSFW (18+) content. Your jurisdiction/age may mean viewing this content is illegal.
You can click above to reveal the image just this once, or change/edit your filter to allow this tag at all times.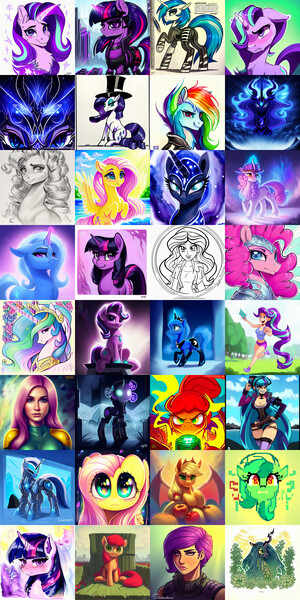 Description:
Showcase for Ponyverse, the configurable dynamic pony prompt helper for AUTOMATIC1111's Stable Diffusion Web UI inspired by Ponymaster. All images are raw outputs from the default Ponyverse preset ran on Astra's V4 model.
Some highlight features:
* handy graphical interface
* modular prompt structure
* configurable
* expansive thesaurus
Check it out over on Ponyverse GitHub. It's totally free and open source.
Hang on a sec...
Make sure you have read and understood our
tagging guidelines
before editing tags.