Uploaded by Anonymous #649E
720x1211 PNG

989 kB
This post is blocked by your current filter - click here to display it anyway
your current filter
This warning may be hiding NSFW (18+) content. Your jurisdiction/age may mean viewing this content is illegal.
You can click above to reveal the image just this once, or change/edit your filter to allow this tag at all times.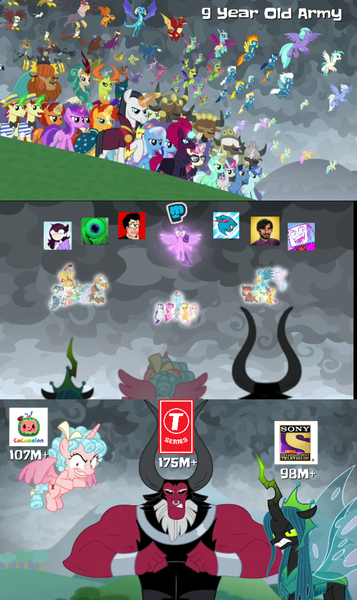 Description:
Independent creators vs. corporate channels: Who will prevail?
Creatures of all kind joined forces, despite background, history, and race, to save <del>YouTube</del> Equestria from <del>corporate invasion</del> the villains (in terms of subscriber count).
Subscriber counts of T-Series, Cocomelon, and <span class="caps">SET</span> India as of 13th March 2021.
In the second image, I cannot include other YouTubers (heroes) that did major contributions to the "battle".
Hang on a sec...
Make sure you have read and understood our
tagging guidelines
before editing tags.