Uploaded by Anonymous #028B
10000x7000 PNG

14.22 MB
This post is blocked by your current filter - click here to display it anyway
your current filter
This warning may be hiding NSFW (18+) content. Your jurisdiction/age may mean viewing this content is illegal.
You can click above to reveal the image just this once, or change/edit your filter to allow this tag at all times.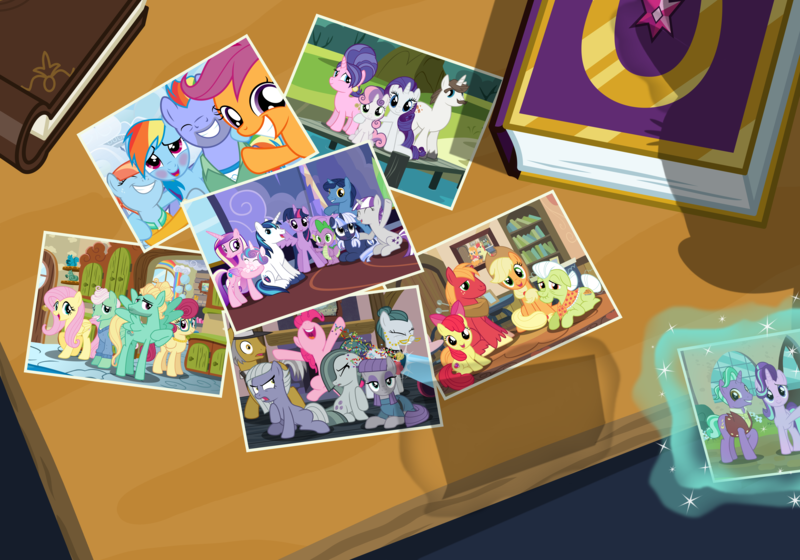 Description:
Obviously this piece concludes my family photo arc. I guess nopony expected there NOT to be a collage of some sort.

Plus, I really wanted to include Starlight in this project. At the current point, she's just as much part of the Mane Group as any of the others, in my opinion. There's just the tiny little hindrance that we haven't got any information about Starlight's mother yet, at least not anything I'm aware of. And I didn't want to do any half-baked solution like coming up with something or doing a torn-in-half photo or any other cliché'd stuff like this.
So by having her in this final picture, adding her own, just halfway visible picture to the batch, it seemed like a nice inclusion for her and an easy solution for me If we ever gain more information about her mother, i'll do an appropriate family portrait for her family as well! Pinkie promise!
For those who don't like strolling through my gallery, here are the single pictures' single versions right away:
Hang on a sec...
Make sure you have read and understood our
tagging guidelines
before editing tags.